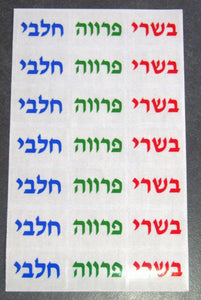 Collecting Trends
Judaica Food Kosher Dairy Meat Parve Pareve 42 Stickers Israel
Regular price
$6.90
Sale price
$8.45
Unit price
per
Judaica Food Kosher Dairy Meat Parve Pareve 42 Stickers Israel
Beautiful stickers that will help you label different foods as Halavi- dairy, Besari- meat or Parve- neither meat nor dairy.
The pack contains 2 sheets of 1.2" X 0.9" stickers- a total of 42 stickers.
The stickers are in Hebrew, and each category carries a different color which helps differentiate the kosher category.
Dairy is in blue, meat in red and parve in green.
Ideal for food stores and kitchens.
---
Share this Product
---